A Few Obscure Video Production Terms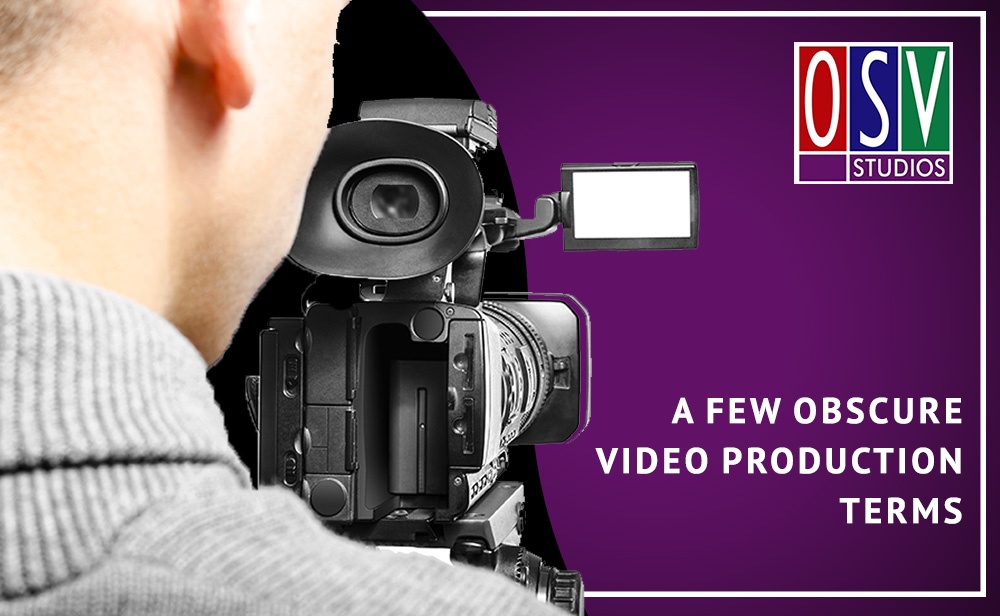 Every industry has its own language and terms. These words and phrases can be confusing to anyone who is not part of a specific industry's daily operations, and the video production industry is no exception.
To help you understand the terms, acronyms, and phrases regularly used when making videos, OSV Studios has created this handy reference guide. Here you'll find valuable information allowing you to comprehend and communicate your video production needs effectively.
C47: Just a fancy name for a clothespin.
Beach: A sandbag used to weigh down a stand.
Striking: What we say before turning on a light.
Martini: The last shot of the day.
Stinger: An extension cord.
CTO/CTB: (Color Temperature Orange and Color Temperature Blue). Gels used to change the color of lights
Floppy: A black flag used to block light
Room Tone: The sound of a quiet room recorded after a scene or interview
Barn Doors: An adjustable blinder to block light
Bounce: A bright-colored object used to reflect a light source
Sticks: Another name for a tripod
Lollipop: An attachment for the top of a stand to hold an arm or light
Safety: A backup shot, just in case
Speeding: When a sound device or camera starts recording
Pancake: A small crate (or apple box)
If you're looking for a premier video production facility in Cleveland, reach out to the experts at OSV Studios. We have over thirty years of experience rendering our bespoke services to an impressive client list.
Our services include video production, video pre/post-production, media delivery, video equipment rentals, video transfers, and duplication. We also offer event video production, live streaming services, drone videography, product visualization, and studio space rental for clients.
We serve clients across Detroit, Michigan, Toledo, Columbus, Cleveland, Akron, Youngstown, Canton, Cincinnati, Ohio, Pittsburgh, Pennsylvania, Chicago, Illinois, Indianapolis, Indiana, Buffalo, New York, and the surrounding areas.
You can view our full list of services here, read customer reviews here, or get in touch with us here.
---
---