Top Five Things To Look For When Hiring A Video Production Facility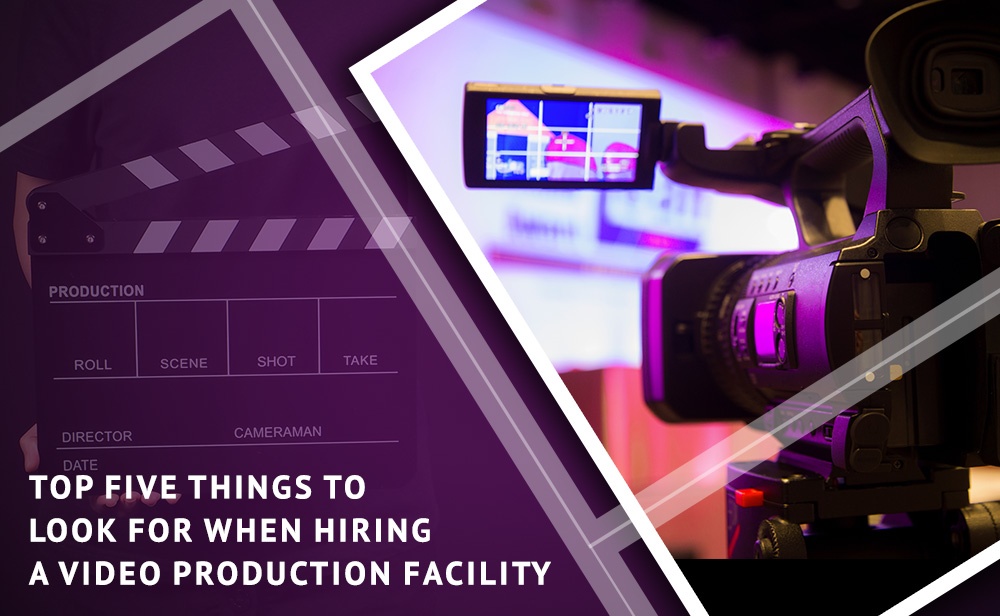 The process of creating a video from concept to completion consists of a lot of things that can be broken down into three major steps, pre-production, production, and post-production. It will require a lot of effort and high-class equipment. A video production facility is responsible for everything from start to end. They help with the concept, scripting, scheduling, casting, providing equipment, and more. Creating an end product that is professional and meets the needs of the client is their key goal.
Sometimes it's hard to decide when to make a video in-house and when to outsource. Sometimes a video you have made in-house can fall flat without the right vision, skill, and equipment. Professional video production facilities eat, sleep, and breathe video. They have the equipment, the experience, and the access to niche professionals to help you with providing necessary equipment, special effects, animation, and cinematography.
When you are looking to hire a video production facility, you might not have an idea of what to expect and prepare for, here's a list of the top five things to look for in a video production facility.
1. Creativity and Originality
With the video market being as saturated as it is, finding a company that stands out above the rest can be challenging. OSV has many years of experience in an enormous variety of shoots, which has helped form our professional and unique style.
2. Friendliness and Flexibility
Depending on the project, shoot days can be long and challenging. Having a crew of friendly, empathetic, and accommodating people can make all the difference in the world. The individuals that make up OSV are passionate about our clients' projects and want them to be the very best. We go the extra mile on set and after the fact, to produce the best content we can.
3. Passion and Proficiency
Many large production houses or ad agencies tend to churn out content for their clients in a very formulaic and predictable way. Not only that, but production can take weeks or sometimes months depending on the scope. OSV takes pride in working with our client's deadlines and developing a specified look for the content they want. We try to make their visions a reality in an efficient and timely manner. Our passion is helping our clients tell their stories, and making sure we deliver the highest quality product we can.
4. Knowledge and Experience
In today's world, anyone with a smartphone can call themselves a "professional." That has, unfortunately, made finding capable and professional crews difficult at times. OSV has only the best in the industry. Our team, on and off set, has years of experience in every facet of production. From conceptualizing to scripting, shooting to editing, and everything in between, we only provide the best quality backed by years and years of experience in the field.
5. Cutting Edge Equipment
Video production is a constantly evolving field. New gear such as cameras, lighting, and editing software is always transforming and modernizing. We, as a company, keep up to speed on all the latest trends and changes. Our equipment is always up to date with industry standards, and we pride ourselves on using the best gear for any size production to deliver the best quality product we can.
If you're looking for a video production facility in Cleveland, reach out to OSV Studios.
For over thirty-five years, both nationally and in Cleveland, we've amassed an impressive client list that we're proud to have won many awards for. Our services include video pre-production, video production, video post-production, media delivery, video equipment rentals, video transfers and duplication, event video production, live streaming services, drone videography services, product visualization, and studio space rental. We serve clients across Detroit, Michigan, Toledo, Columbus, Cleveland, Akron, Youngstown, Canton, Cincinnati, Ohio, Pittsburg, Pennsylvania, Chicago, Illinois, Indianapolis, Indiana, Buffalo, New York, and the surrounding areas.
To learn more about the services we offer, please click here. To get in touch with us, please click here.
---
---